Ireland has a roadmap to reopen for business as we continue to navigate the Covid-19 pandemic. You can download it here.
On 1 May, Government published their five-phase roadmap for getting the country going again and thus lifting restrictions on cafés, restaurants, hotels and bars.
For hungry diners and hospitality workers, it's looking like the latter of the five phases for reopening. Even then, there will be hygiene restrictions in place along with sustained social distancing measures.
Below, I've broken out the specific notes around cafés, restaurants, hotels and bars. Of course, you'll have specialty food stores that have been closed that will reopen sooner under small business allowances.
Farmers markets too have been touted to return as an outdoor resource from 18 May.
For all the finer detail, it's worth your time reading through the plan in full here.
The five phases
As we heard on Friday night, we've now got five phases to get through before seeing pretty much everything back up and running. The phases are gapped by three weeks, will be incremental, and may be changed depending on how the country's health system and society in general are coping.
The first phase will commence on 18 May which would see outdoor workers in construction, landscaping and the likes return to work while we'll also see hardware stores open (think Woodies etc), garden centres, pitches and golf courses.
Phases continue every three weeks so the calendar looks like
Phase 1: 18 May
Phase 2: 8 June
Phase 3: 29 June
Phase 4: 20 July
Phase 5: 10 August
For food lovers and hospitality workers, it's from phase 3 onwards that we're looking.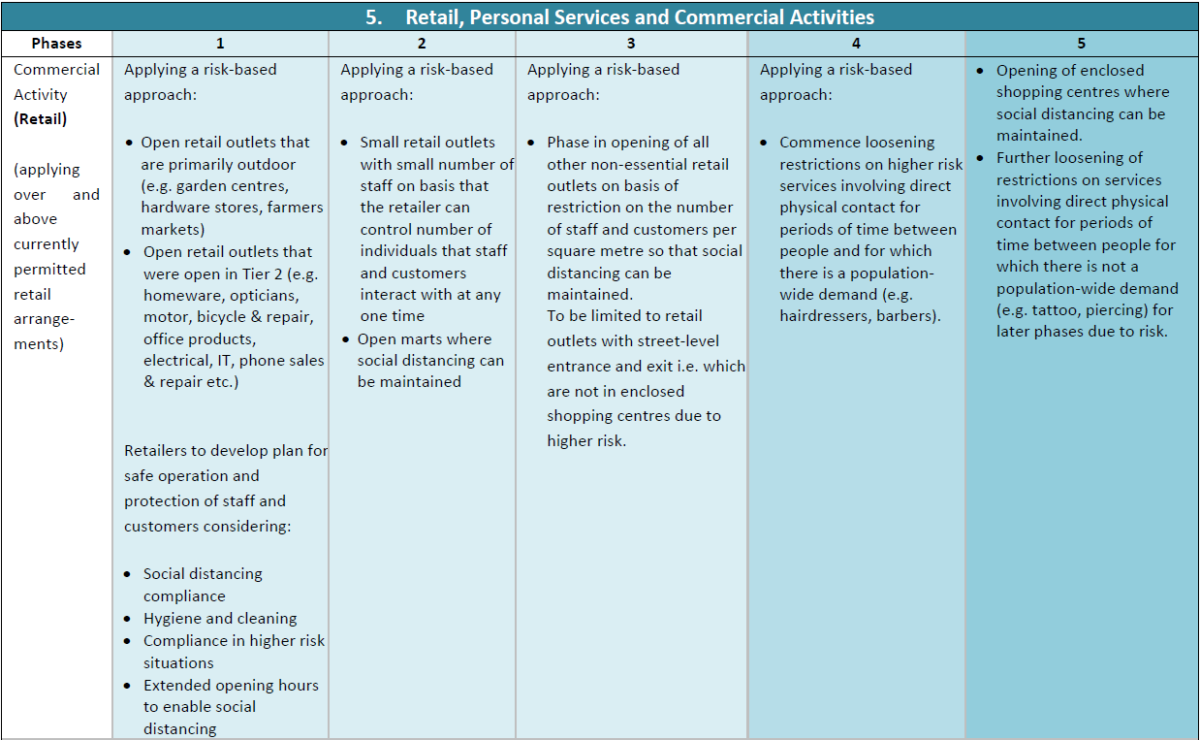 Cafés & Restaurants
According to the roadmap for Phase 3, "Cafés and restaurants providing on-premises food and beverages can re-open. They must comply with social distancing and strict cleaning protocols."
Already we've seen a growing number of outlets re-open on a takeaway and collection basis only, so this now gives owners a firm date to plan towards regarding the managing of staff and social distancing.
Will the number of seats / tables / covers be reduced? If so, does it make economic sense to return? Will people want to go in and sit down having been away for so long? I'm sure there will be plenty of questions to ask as the weeks tick toward 29 June, but having a solid date leaves something to work towards.
Hotels – but no hotel bars
Hotels will be next in line to open, falling under phase 4 commencing 20 July.
As per the roadmap, "Hotels, hostels, caravan parks, and holiday parks for social and tourist activities can open, initially on a limited occupancy basis (or number of people per square metre), and then increasing over time. Social distancing measures are to be followed."
While hotels may return to business, hotel bars will have to remain closed. There's no clarity in the document where the bar and restaurant are the same space, but these will become more defined as the weeks progress
Pubs
Pubs, as 'indoor recreational venues' are last on the list, set for phase 5 from 10 August. It is projected to popen pubs, bars, nightclubs, casinos "where social distancing and strict cleaning can be complied with."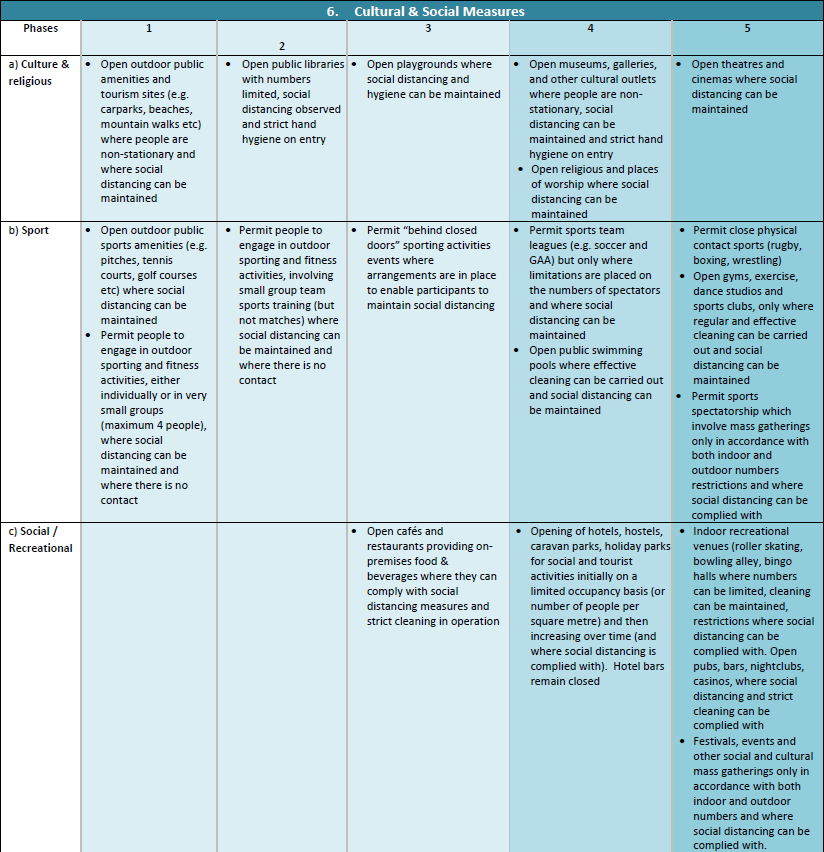 Social activity measures & where to next
There are some further footnotes around social activity measures for restaurants, cafés etc. where these may be re-opened on a gradual basis including restricting of opening hours or setting a maximum number of people allowed.
Each of the phases, as of 1 May, are set out at three week markers.
As per the roadmap, the Government will still be following advice from the Department of Health as well as other social and economic considerations. There may be modifications to what can and can't reopen per each phase. Employment will be looked at, benefit to the public and businesses alike, morale, wellbeing.
We may also find ourselves in a situation where restrictions are re-imposed. Everyone wants to get back to that "normality" that was January/February and pre-Covid-19, but we are where we are.
Between now and 18 May, we can continue to enjoy our takeout services from local businesses, now at a greater distance of 5km (from Tuesday 5 May) and start planning a return to work and an embracing of the new normal for the summer ahead.