The best restaurant in Ireland has been decided at the Irish Restaurant Awards 2019.
This year, the award is off to Loam in Galway (pictured above).
After months of regional rounds, voting and judging, the overall national winners were announced in Dublin last night.
Loam Restaurant in Galway claimed the All-Ireland Best Restaurant title. Dax Restaurant's (Dublin) Graham Neville took the overall Best Chef award. Waterford's Everett's Restaurant took the title for Best Newcomer.
In my own neck of the woods, I'm delighted to see Truffles pick up the Leinster title for Best Casual Dining (having only eaten there at the weekend).
Barrows Keep in Graiguenamanagh/Tinnahinch picked up Leinster's Best Wine Experience with the Knockdrinna Café taking the café award for the region.
Irish Restaurant Awards 2019: The Winners
If you're looking for new places to try this year, these names might give you a guide. Check the names for links to restaurant sites and bookings.
Best Restaurant in Ireland
Best Chef
All-Ireland: Graham Neville of Dax Restaurant
Dublin: Graham Neville of Dax Restaurant
Connaught: Barry Ralph of House of Plates
Leinster: Deirdre Adamson of The Fatted Calf
Munster: Peter Everett of Everett's Restaurant
Ulster: Chris McGowan of Wine and Brine
Best Restaurant Manager
All-Ireland: Eva Ivanova of Sage Restaurant
Dublin: Denise McBrien of The Old Spot
Connaught: Eva Ivanova of Sage Restaurant
Leinster: Edwina Hynes of La Côte Seafood Restaurant
Munster: John Edward Joyce of The Mustard Seed at Echo Lodge
Ulster: Saul McConnell of NOBLE.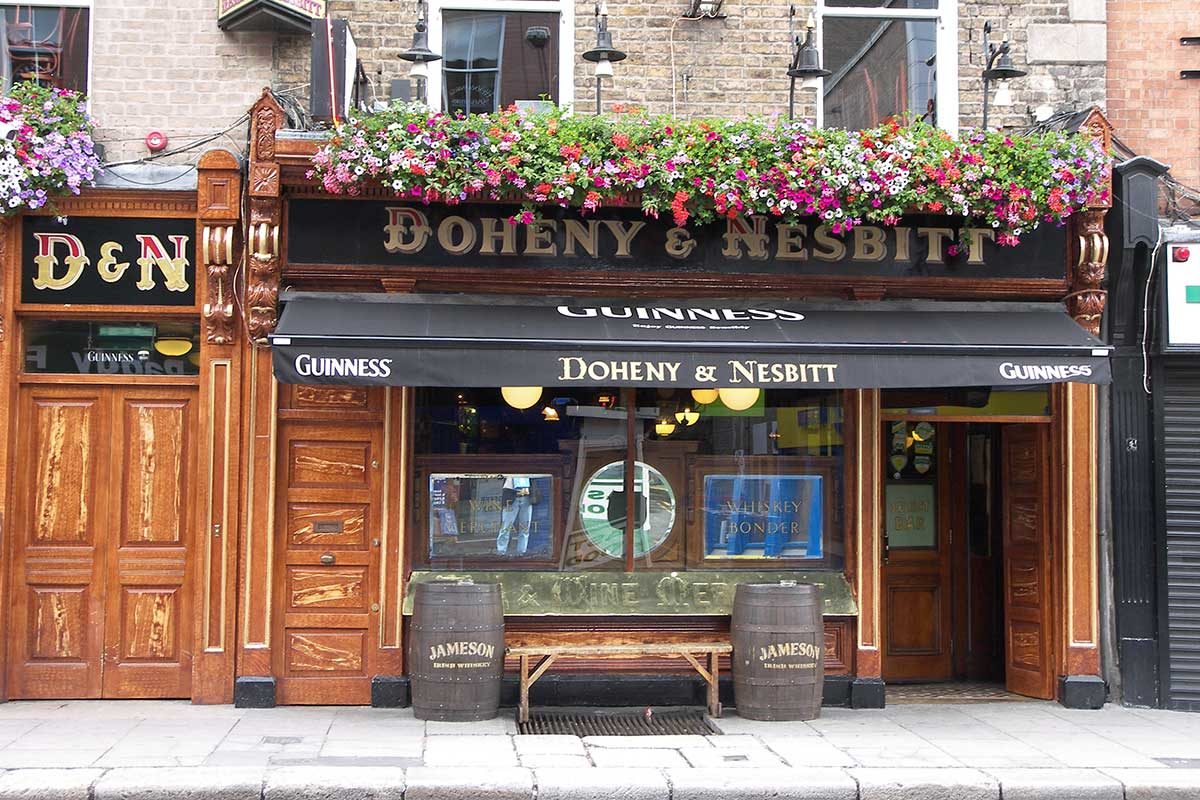 Pub of the Year
All-Ireland: Doheny and Nesbitt
Dublin: Doheny and Nesbitt
Connaught: J Doherty's
Leinster: Hamilton's Pub
Munster: Levis Corner House
Ulster: Coach House & Olde Bar
Best Hotel and Guesthouse Restaurant
All-Ireland: Gregans Castle Hotel
Dublin: The Saddle Room at The Shelbourne Hotel
Connaught: West Restaurant at the Twelve Hotel
Leinster: Brabazon Restaurant at Tankardstown House
Munster: Gregans Castle Hotel
Ulster: Newforge House
Best Newcomer
Best Gastro Pub
All-Ireland: The Old Spot
Dublin: The Old Spot
Connaught: Bar One
Leinster: The Ballymore Inn
Munster: Mikey Ryan's Bar and Kitchen
Ulster: Clenaghans
Best Customer Service
All-Ireland: The Muddlers Club
Dublin: Luna
Connaught: Park House Hotel
Leinster: LENNONS @ Visual
Munster: Ballyvolane House
Ulster: The Muddlers Club
Best Casual Dining
All-Ireland: 777
Dublin: 777
Connaught: HOOKED Sligo
Leinster: Truffles Restaurant and Wine Bar
Munster: Bodega
Ulster: The Olde Glen Bar, Restaurant and Tea Room
Best Wine Experience
All-Ireland: Green Man Wines
Dublin: Green Man Wines
Connaught: Le Petit Pois
Leinster: Barrows Keep
Munster: The Black Pig
Ulster: OX
Best Kids Size Me
All-Ireland: Old Street Restaurant
Dublin: Old Street Restaurant
Connaught: Shells Seaside Bakery and Café
Leinster: Tiffin by Sunil
Munster: 9 Café
Ulster: Oak Room Restaurant
Best World Cuisine
All-Ireland: 3 Leaves
Dublin: 3 Leaves
Connaught: Spice India
Leinster: Pink Salt Indian Restaurant
Munster: Iyer's
Ulster: Tuk Tuk Asian Bistro
Best Café
All-Ireland: Connemara Greenway Café & Restaurant
Dublin: Two Pups
Connaught: Connemara Greenway Café & Restaurant
Leinster: Knockdrinna Farm Shop & Artisan Café
Munster: Good Day Deli
Ulster: Dinkin's Home Bakery & Café
Best Free From
All-Ireland: GROW HQ
Dublin: Urbanity
Connaught: Drumanilra Farm Kitchen
Leinster: Zucchini's Restaurant
Munster: GROW HQ
Ulster: The Olde Post Inn
Local Food Hero
All-Ireland: Seán Hussey of Hussey & Sons Fruit & Veg
Dublin: Seán Hussey of Hussey & Sons Fruit & Veg
Best Emerging Irish Cuisine
All-Ireland: 35 Restaurant
Dublin: Forest & Marcy
Connaught: An Port Mór Restaurant
Leinster: Thyme Restaurant
Munster: 35 Restaurant
Ulster: Wine and Brine
Best Digital Marketing
All-Ireland: Michael's Mount Merrion
Best Cookery School
All-Ireland: The Neven Maguire Cookery School
Best Private Dining & Club Restaurant
All-Ireland: Stephens Green Hibernian Club
Best Seafood Experience
All-Ireland: Fish Shop, Benburb Street
Best Cocktail Experience
All-Ireland: The Tack Room at Adare Manor
To go back over the county and regional winners this year, check the list of best Irish restaurants here.

---
Ken On Food Podcast: The Latest Episode
Subcribe to the Ken On Food Podcast on Spotify and Apple Podcasts.