A popular eatery in Thomastown, Kilkenny, has announced it is closing its doors.
Toast, operating from what was Carroll's bar on Logan Street, is calling time after almost four years in its current location.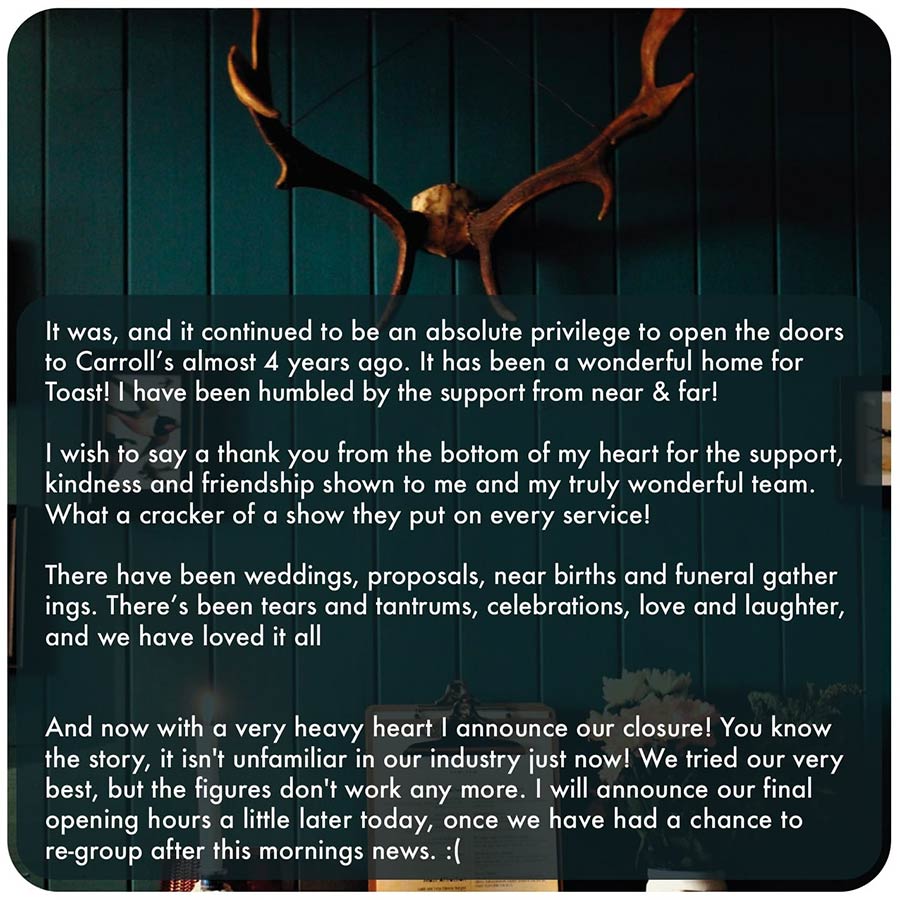 "It was, and continued to be an absolute privilege to open the doors to Carroll's almost 4 years ago. It has been a wonderful home for Toast! I have been humbled by the support from near & far!"
"I wish to say a thank you from the bottom of my heart for the support, kindness, and friendship shown to me and my truly wonderful team. What a cracker of a show they put on every service!"
"There have been weddings, proposals, near births and funeral gatherings. There's been tears and tantrums, celebrations, love and laughter, and we have loved it all."
"And now with a very heavy heart I announce our closure! You know the story, it isn't unfamiliar in our industry just now! We tried our very best, but the figures don't work any more. I will announce our final opening hours a little later today, once we have had a chance to re-group after this morning's news."
Silver linings
While the news of Toast's pending closure in Thomastown will bring disappointment for its customers and neighbours, there have been some new eateries to open in Kilkenny in recent weeks with Nóinín (Bateman Quay) and Barista Sistas (Callan) both opening as new ventures in the run-in to Christmas.
Wishing the team from Toast all the best for the next chapter. Find them on Facebook or Instagram.