Bord Bia have released a handy Irish Food Facts infographic ahead of St. Patrick's Day.
While there'll be plenty of eyes on pints of Guinness for 17 March, there will be just as many looking for Irish food.
But what does #irishfood like like on the global scale?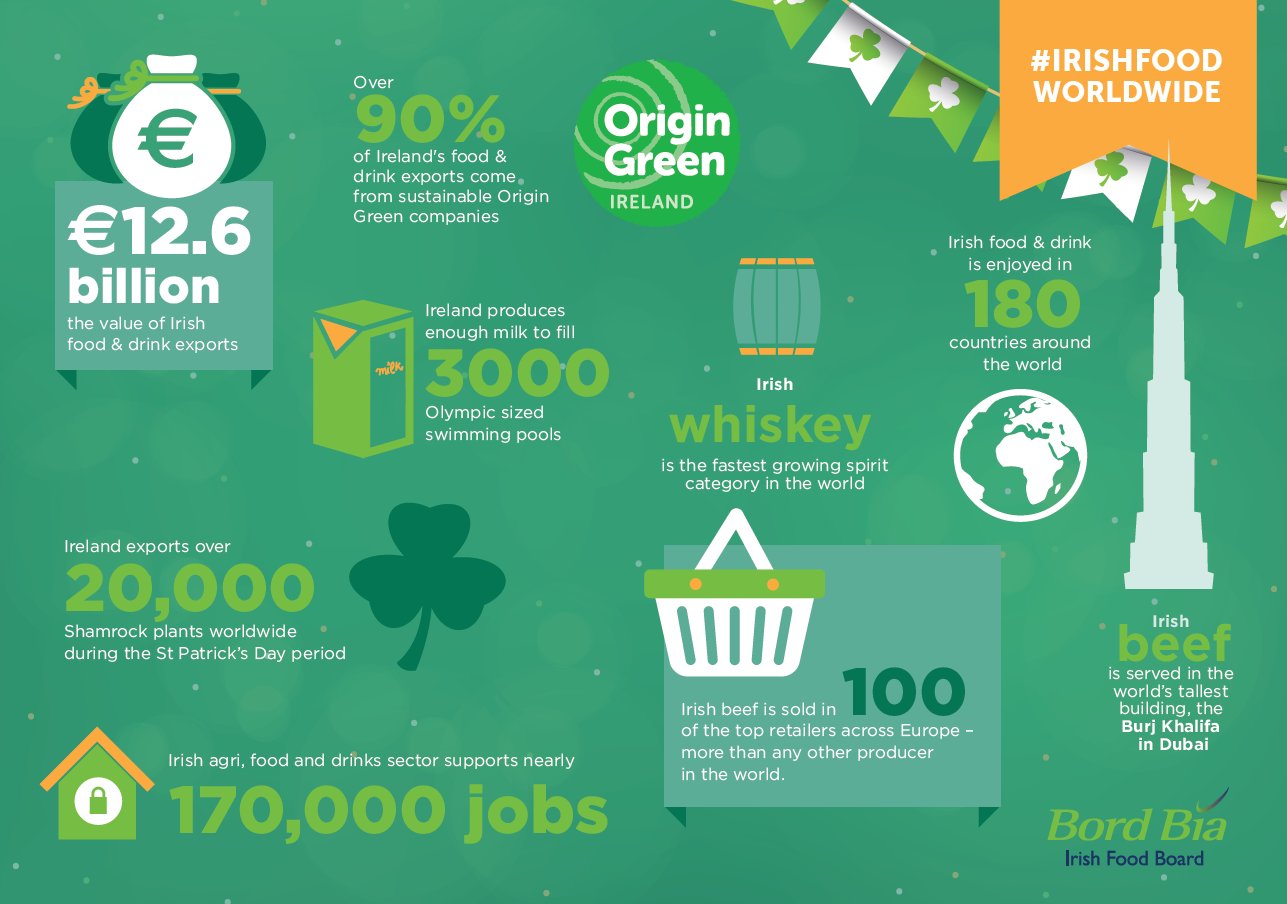 Irish Food Facts By The Numbers
When you're downing a Guinness and a bag of crisps on Saturday, or making small talk during the rugby, here's some numbers to keep you occupied.
The value of Irish food, drink and horticulture exports at the end of 2017 was €12.6bn. That's a record figure as sales continue to grow despite Brexit fears. That figure was a 13% increase on 2016
Over 90% of Ireland's food and drink exports come from sustainable Origin Green companies. It's Ireland's food and drink sustainability programme, led by Bord Bia.
Ireland exports over 20,000 shamrock plants during the St. Patrick's Festival period. There's a bowl of it bound for the White House too.
The Irish agri, food and drinks sector supports in the region of 170,000 jobs.
Ireland produces enough milk to fill 3,000 Olympic-sized swimming pools. The typical volume of an Olympic pool is 2.5m litres. You do the math.
Irish whiskey is the fastest growing spirit category in the world. Fact.
Irish beef is sold in 100 of the top retailers across Europe. That's more than any other producer in the world.
Irish food and drink is enjoyed in 180 countries worldwide. That's not total global domination, but it's pretty close.
Irish beef is served in the world's tallest building – the Burj Khalifa in Dubai.
When you're done with the numbers, check out these Irish food events for 2018.
Check out some facts about #IrishFood worldwide in advance of #StPatricksDay! pic.twitter.com/X4xjIY5fnz

— Irish Food Board (@Bordbia) March 15, 2018