If you're looking for something to do 'up North' this week, how about Derry's Slow Food Festival?
The only one of its kind in Northern Ireland, the Derry Slow Food Festival kicks off this coming Wednesday, right across the weekend.
This year's festival is the biggest ever, jumping from a two to five day affair, largely off the back of Derry's growing reputation in Irish food circles.
Derry Slow Food Festival: What's on the menu?
A lot, as it happens.
One of the highlights is the 'Taste of LegenDerry' Slow Food Dining Experience (Friday 11 October).
Over the course of the evening, attendees will come together at long tables to experience flavours from the shores of Lough Foyle to the foot of the Sperrins, all paired with locally crafted beers.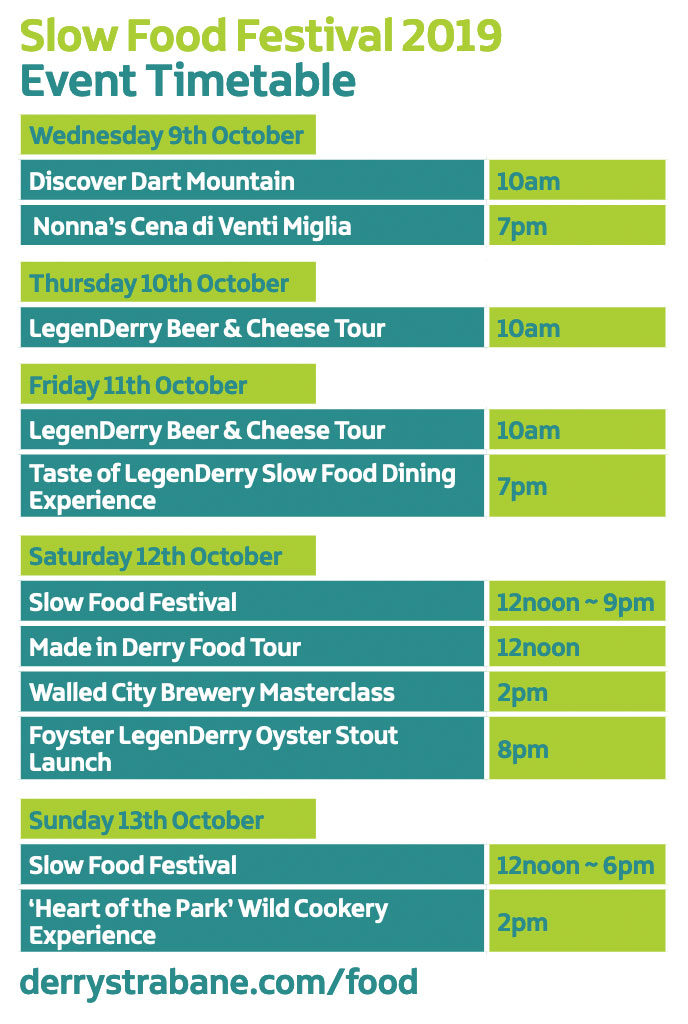 Local producers and suppliers will be on hand to discuss the menu.
The tastes of the North West will be given an Italian twist during 'Cena di Venti Miglia' at Nonna's (Wednesday 9 October) when antipasti, pizzas and matching beers will be sourced from within 20 miles of the restaurant.
There's heaps of demos and masterclasses on the drink and food front including appearances from Jenny Bristow, Catherine Fulvio, Paula McIntyre and more.
Something for the family
Family events this year also offer younger food lovers the chance to get on board the slow food movement with a 'Heart of the Park' wild cookery experience.
In this case, it will be ingredients from the garden in St. Columb's Park used by children who then design and cook their own campfire food – pretty cool on the food education front.
Of all the places I've been to in Ireland over the years, Derry is still on the missing list. If you're like me and looking for a reason to visit, this might be it.